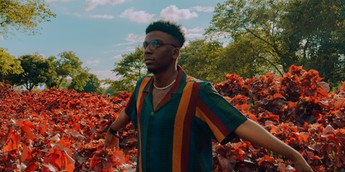 Joshua Abba Jeremiah Professionally known as "Hitsound" is a Nigerian Record Producer, Songwriter, Youtuber & Entrepreneur from Kogi state, Nigeria.
Over the years, Hitsound Producer has been a driving force in the music industry.
He diversifies in various genres, mainly Afro beats, Dancehall, and Afropop music.
Growing up in a music-inclined family, Hitsound began a music career in early secondary school before taking the big step of making a successful music production career while making industry moves.
With a successful online music production career, Hitsound has immersed a wide fanbase of thousands over the years on YouTube and popular streaming platforms via his consistent release of Type Beats and Instrumentals with a wide daily increase in following and subscribers.
Ranking at a top spot in a new wave of Afrobeat marketing and digital production mastery.
Hitsound Producer is set to attain impeccable heights and reach impressive milestones in his music career but that's not all there is to this; Hitsound has his mind set on using this platform to bring more recognition and give more flowers to established and emerging producers in the Nigerian music Industry.
In the world of production, Hitsound most definitely is a force to reckon with. Driven by his passion for music and his zest for success, Joshua is on a mission to etch his name and prints in the annals of musical history by attempting to break the Guiness world record for the longest recording session with multiple artists.
Over the years, Hitsound Producer has been a driving force in the music industry, renowned for his innovative soundscapes and visionary approach to music production.
His portfolio proudly boasts of his versatility across musical genres, most especially his Afrobeat prowess.
Joshua Jeremiah is poised to embark on a journey that will test his mettle as a producer. His goal? To break the existing Guinness World Record, which stands as a testament to human endurance, creativity, and the power of collaboration.
The Record-Breaking Attempt
Joshua Jeremiah's quest for the record will be an endurance test like no other. He plans to host a continuous recording session that will stretch over several days, featuring a wide array of artists, each bringing their unique style and talent to the table.
This monumental undertaking will not only push the boundaries of music production but also foster a sense of unity and camaraderie among musicians.
The current Guinness World Record for the longest recording session with multiple artists stands at an impressive 40hr 19 minutes by Hawwal Emmanuel Olanrewaju Ogungbadero.
Hitsound Producer aims to surpass this milestone, demonstrating his unwavering commitment to his craft.
Why This Record Matters
As aforementioned, this record-breaking attempt is not just about attaining a milestone in his career, it's a way of bringing to life his vision of bringing more recognition and flowers to Nigerian music producers, both established and emerging.
This record would be a mark that shows the power and Influence of music in transcending boundaries and bringing people together.
This is testament to his dedication to fostering collaboration, creativity, and a sense of community within the music industry.
Join the Journey
As Joshua Jeremiah, aka Hitsound Producer, embarks on this epic recording session, he invites music enthusiasts and supporters of the arts to join him on this sensational journey. Follow his progress and be part of marking musical history.
Stay tuned for updates on this groundbreaking endeavor as Hitsound Producer strives to etch his name in the Guinness World Records and make a statement about the enduring power of music.
In the end, it's not just about breaking records; it's about breaking barriers and making music that resonates with the soul.
This is coming after Nigerian Chef, Hilda Baci broke the record for the longest cooking marathon.