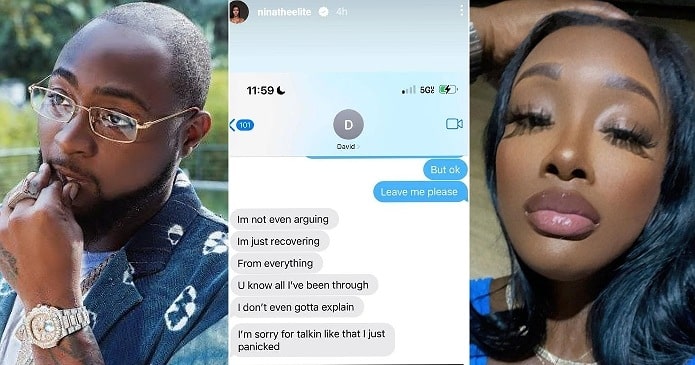 I am begging you at this point – Anita Brown exposes another chat with Davido
Anita Brown who claims to be Davido's 5th baby mama has shared more screenshots of her WhatsApp conversation with the singer.
In one of the screenshots, Davido pleaded with Anita, stating that he's still recovering from everything and that he panicked when he spoke badly to her the way he did.
Her decision to share the conversation comes after she was dragged by Nigerians for calling out Davido on Wednesday, June 28th, for allegedly impregnating her.
She claimed that she has been in an on-and-off relationship with the singer since 2017.
The revelation caused a stir on social media, with many people expressing their disappointment in Davido for his alleged behavior.
I am pregnant with Davido's 6th baby – Lady from France reveals, leaks their chat
However, with the release of the WhatsApp conversation, some people have begun to question Anita's motives and wonder where her anger is really stemming from.
Davido in the chats tried to explain to Anita that he has been through a lot, but his pleas was disregarded as Anita was highly provoked and hell bent on making him pay.
"I am not even arguing. I am just recovering from everything. You know all I have been through. I don't even gotta explain, I am sorry for talking like that, I am begging you at this point", Davido wrote.
See the post below: