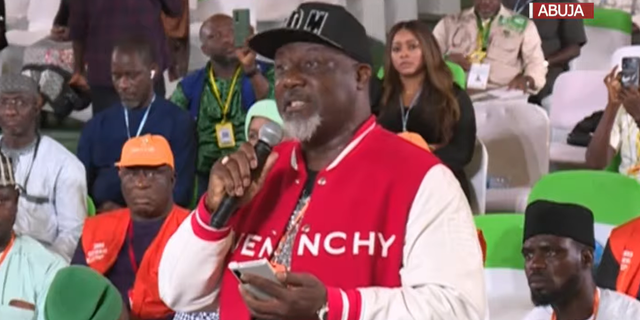 A mild drama ensued at the International Conference Centre, the venue of Independent National Electoral Commission (INEC) results collation as Senator Dino Melaye briefly disrupted proceedings over disagreement with results being announced.
It all started when Dino, who was acting as the Peoples Democratic Party (PDP) agent, raised observations about the results from Ekiti State as announced on Sunday, February 26, 2023.
The former Kogi West Senator alleged that there were inconsistencies in the results announced by the State Collation officer and urged the INEC chairman, Mahmood Yakubu, to consider a review of the results to ensure all the figures are properly aligned.
"I have a fundamental observation based on our proceeding yesterday. Yesterday we received the results from Ekiti State yesterday and I worked on the results as presented yesterday and I discovered that we have 987,647 registered voters in Ekiti and 301,558 accredited.
"And, since we have 301,558 accredited, the results as presented yesterday, APC has 201,498 if you subtract that from 301,558 what you have left us 100,64, out of this 100,64, PDP scored 89,554.
"If you subtract that from the balance of 100,64, what is left is 10,510 and now it was also recorded yesterday that Labour had 11,397 when the total number left is 10,510 leaving an over figure of 887, apart from this 887 surplus, we have not calculated the votes of other political parties," Dino had said.
However, Yakubu while acknowledging Dino's concerns, argued that such issues were not meant to be resolved at this stage of collation and enjoined the PDP agent to explore appropriate channels to report his grievances.
Agents of three other political parties including Labour Party, also aligned with Dino's position and urged the INEC chairman to act on the complaints immediately but Yakubu insisted that collation must proceed while the issues raised can be directed to the appropriate quarters.
Proceedings had barely resumed when Dino, who was visibly unsatisfied with the chairman's judgement, left his seat and moved to the front of the room while ranting.
All the efforts made by Yakubu to ignore the developing drama proved abortive as Dino's voice became louder prompting the INEC boss to remind the agitated PDP agent that, "you're disrupting the proces."