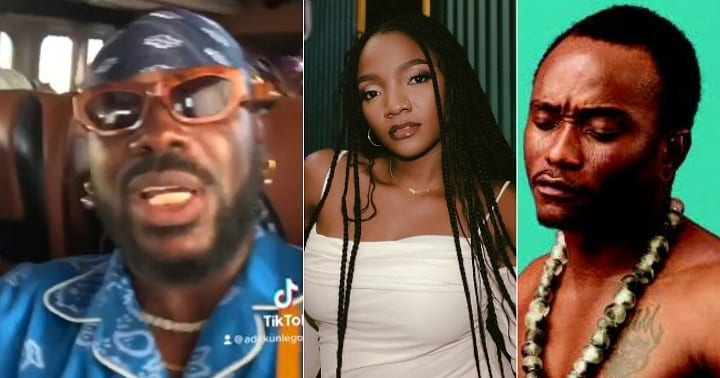 Don't disrespect my wife – Adekunle Gold tackles Brymo over insensitive comment about Simi
Adekunle Gold has tackled singer Brymo for disrespecting his wife after the singer recounted his experience with Simi.
In a tweet, Brymo claimed that he turned down a collaboration with Simi because she refused to sleep with him, and also suggested that he had also turned down Adekunle Gold in the past.
Ent.News: Adekunle Gold Teases New Single With Wife, Simi After 7 Years
In response, Adekunle Gold urged Brymo to seek professional help and address any underlying issues that may have led him to make such comments.
"Don't disrespect my wife and my family. Get help!", He wrote.
Brymo's comments have sparked outrage on social media, with many fans and netizens criticizing him for promoting a toxic work culture and disrespecting women.
Some have also called for him to be held accountable for his actions and for Simi to speak up about her experience.
@DaddyMowy said: "Brymo is so washed up he's looking for clout by talking rubbish to remain relevant.
Shame is free and he can't even afford that."
@sammy uzo said:
"The kind of thing you take off twitter tbh, shift both maxilla and mandible and remove like 3 teeth."
@StellamarisOloh reacted: "Get him.
Stand up for your wife and family
I Love this a real Man."
@Faith– commented:
"Dem suppose beat this Brymo seriously."
@Eniola reacted: "Love this response
There's a limit to how you talk
Na their kind Dey disrespect ladies upandan."
@lam_Jonahaus commented:
"I wonder if its the same Brymo who sang those songs with reasonable lyrics, that steadily spill all this rubbish."
See the tweet below:
Do not disrespect my wife and my family. Get Help! https://t.co/AawoFADSXA

— Tequila Ever After (@adekunleGOLD) July 21, 2023